Modular Kitchen is a term used for the modern kitchen furniture layout consisting of modules (units) of cabinets made of diversified materials which hold accessories inside, which can facilitate the effective usage of the spaces in a kitchen. Normally the units which are kept on the floor are called "floor units" or "floor cabinets" on which a kitchen worktop made of granite, marble, tile or wood has been laid for creating spaces for varied activities in a kitchen.
The units which are held on the wall for storage purposes are termed as "wall units" or "wall cabinets" . In small areas of kitchen in an apartment, even a "tall storage unit" is available for effective storage.
Modular kitchen normally constitutes wooden cabinets, counter tops, internal accessories, electro domestic gadgets like chimney, hob, built-in-oven, sink with or without drain board and in some cases a refrigerator, dishwasher or other gadgets.
The designer normally designs the space using modules of standardized sizes to suit individual spaces. Most kitchen design software that the designer uses has an option where you can edit the catalogs to set the sizes of the kitchen units to the standard sizes you use.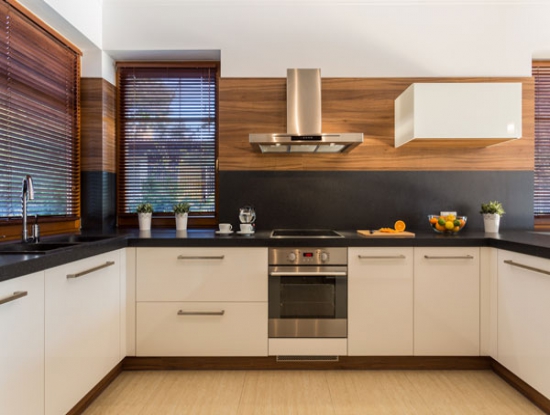 Why GUNTIER Modular Kitchens
Our company has over 25 years experience in woodworks and cater to multiple market segments in markets across Pan India. Being manufacturers we know the industry trends and offer exceptional quality, craftsmanship and latest design. Being from industry, our advice goes long way in recommending you the ideal and long term product.
We have most experienced Designers, Production and Installation staff who are from Kitchen and wardrobe industry. Enhanced quality control is the key in our product portfolio; as such you get the best in Indian market matching top of the line International standards.
We offer latest International designs and Product quality. You bring the design, well make it
Each latest design Kitchen, Wardrobe and Panel industry product we manufacture comes with a 1 year manufacturer's warranty.
Our kitchen components are ready to go with variety of best in-class hardware, & all wooden elements comply with highest ATSM standards.
Our design and installation department has done many projects across India, we always ensure that you have absolutely smooth experience from concept to implementation when we work for you.